We're pleased to announce the launch of Report Builder, the powerful new reporting tool in our reporting suite. With Report Builder, you can create custom reports using the data available across your program - from Recruitment and Outreach to Content and Revenue Performance. Report Builder enables you to dive into the details, with the ability to display a variety of data points for each contact, posted content, conversion, order placed, or payment made with GRIN.
You'll have the ability to generate reports using advanced filters and adding or removing columns in order to create a report that is customized with the data that is most important to you. Once you have your custom report created, you can easily export the report data as a .csv for continued analysis or to import to a Business Intelligence tool of your choice.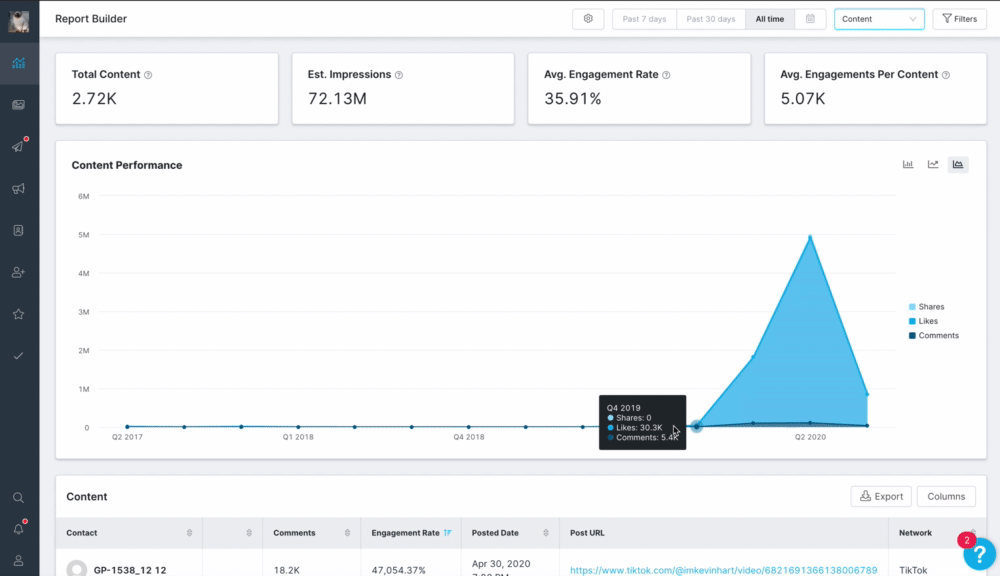 Report Builder can be viewed by clicking on most widgets on the dashboard to view the source data displayed in the selected widget (ie. navigating from the Content widget displays the Content "source" data in Report Builder). Additionally, you may navigate to Report Builder from the global navigation.
Report Builder is a premium add-on; contact Customer Success for more information.