We're proud to announce enhancements to GRIN in various areas including Shopify integration, Influencer Search, Campaigns and Partnerships. Use the following guide to understand more about the new features.
Learn about the new enhancements:
Shopify Integration Enhancements
We've added a couple of enhancements exclusive to Shopify eCommerce integrations. These enhancements will allow you more flexibility and customization options to manage your program within GRIN.
Learn:
Shopify Inventory Locations
We've added support for Shopify Locations that allows you to select one of your warehouse locations, sync product inventory from that location, and create orders exclusively with products from your chosen location. Once an order is created within a campaign or partnership, it will include the location ID in order for products from your chosen location to be picked and the order fulfilled.
The value of this enhancement allows you to limit the product selection your influencers choose to be from one warehouse rather than your entire Shopify store. Once the location is set within your sync settings, all imported products within GRIN will adjust to the quantity held at your warehouse location.
Restrict Discount Codes to Customer Groups
To allow for additional customization when managing your discount codes, we've added the ability to restrict the use of discount codes to specific customer groups. This added feature allows you to create discount codes that can only be used by customers that fall within selected customer groups.
For example, your discount code group can be created to be limited to specific groups of customers that fall in the categories: current email subscribers, new, returning, etc.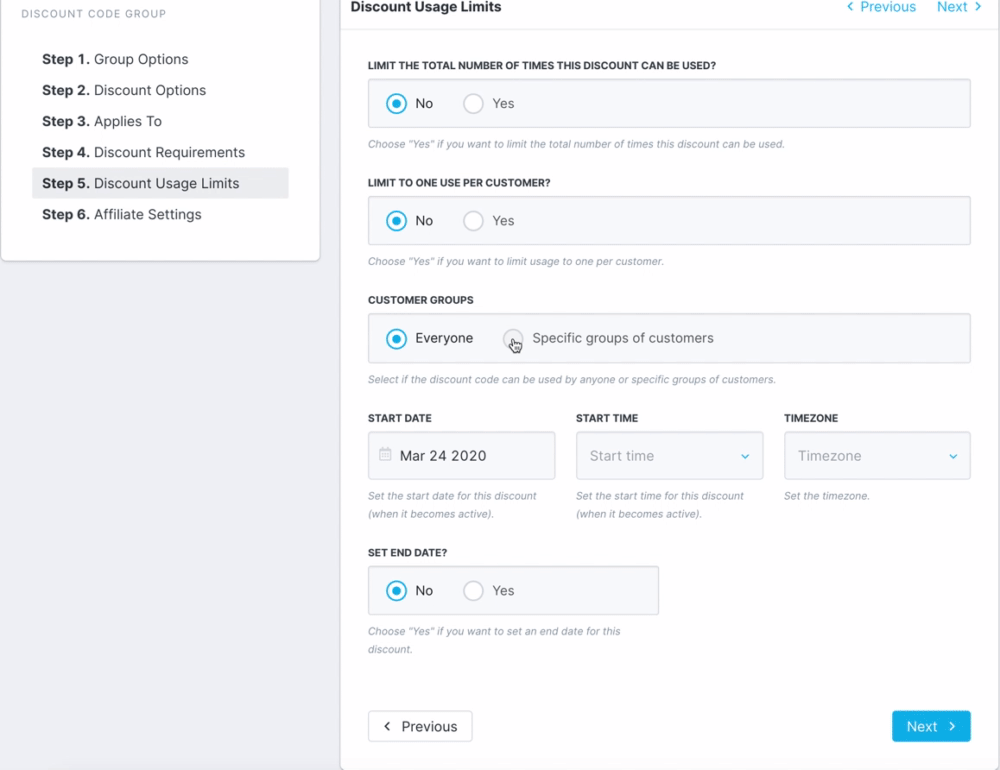 Pause Influencer Conversions and Content in Campaigns
We're excited to announce a feature that will allow you to pause influencer conversions and content from being attributed to a specific campaign. The purpose of this feature is to allow you to move influencers between Campaigns, or from a Campaign to a Partnership, while only having them be active in chosen campaigns and partnerships.
For example, if you have an influencer who has completed their deliverables for one campaign, and you'd like them to participate in another Campaign or Partnership, you can pause content and reporting from being pulled into the previous campaign so that their new content and conversions are not attributed to the campaign that they are paused in.
The benefit of this feature allows you to keep the same hashtags/mentions and discount codes for an influencer across campaigns, as long as they are paused in all but one campaign or partnership. This will prevent reporting, content, and conversions from being pulled into the wrong campaign.
Search field added to YouTube Influencer Search
We've added an enhanced YouTube search field that provides you with a list of hashtag search terms based on your input in the text field, in order to help you find the most relevant Influencers. This new feature can be used amongst other search features and terms in order to search for influencers that match both your brand and campaign goals.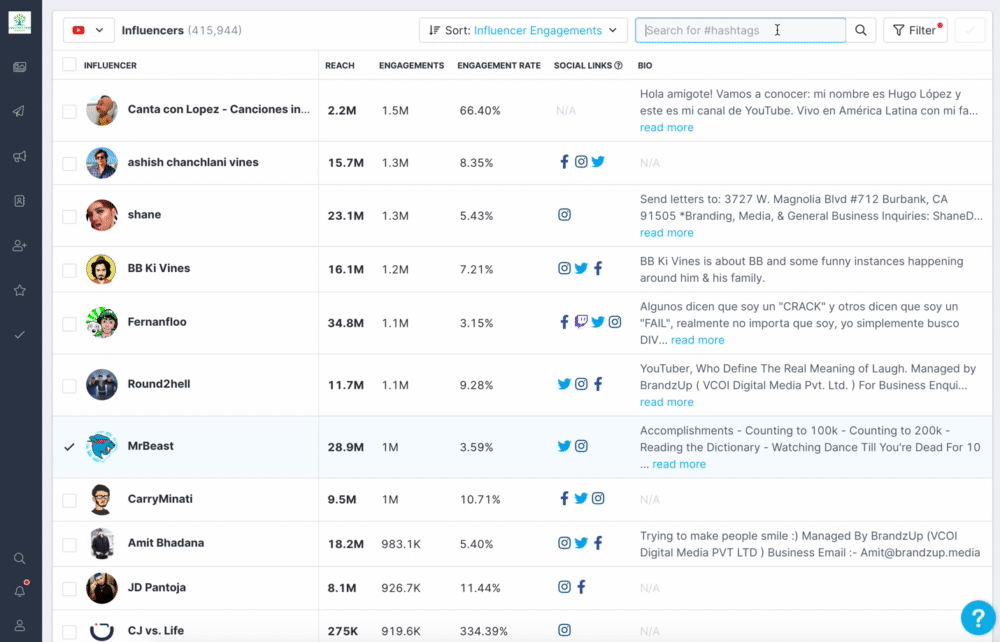 Partnerships Enhancements
To help you manage your Partnerships more efficiently, we've added a few enhancements that will give you more visibility into the status of your Partnership deals.
Quick View of Deliverables by Media Type
We've added a quick view of your partner's content on the 'Deliverables' column that shows the Partner's total deliverables broken out by media type. This will allow you to view the Partner's progress at a glance rather than clicking 'Manage Partnership' to view this information.
Deliverable Media Type Columns
You can now add Deliverable Media Type columns to your Partnerships table so that you can easily see deliverable progress for specific media types.

Media Type Filter
Additionally, we've added a Media Type to the filter options on the Partnerships table, so that you may filter your view based on your Partners' deliverable media type.
Last Content Date Column
You now have the option to add a 'Last Content Date' column to the Partnerships table, to provide more visibility into when content was last posted by your Partners.