We're proud to announce enhancements to GRIN for both Shopify and Campaigns. Use the following guide to navigate the new features.
Learn about the new enhancements:
Shopify Enhancements
We've added a couple of Shopify enhancements that will allow you more flexibility and customization options to manage your program in GRIN.
We now support Shopify Locations!
We've added support for Shopify Locations so that you can select one of your locations in order to sync your product inventory and add the location id to orders created in GRIN.
Step 1 To set a location, navigate to Brands and click the Products icon.
Step 2 Click Sync Settings on the top right.
Step 3 Under Enable Shopify Locations?, choose Yes.
Step 4 Once you select Yes, you may see an Update Account button, which will open the modal to re-authenticate with Shopify. This will allow us to access additional settings required to support Shopify Locations.
Step 4 Choose your location in the drop-down provided.
Step 5 Choose how you want GRIN to handle order creation when products are out of stock at the selected location.
Step 6 Save your sync settings.
Restrict Discount Codes to Customer Groups
To allow for additional customization with managing your discount codes, we've added the ability to restrict discount code use to specific customer groups. This will only allow customers that fall within the selected customer groups to use the discount codes.
To enable this option:
Step 1 Navigate to Brands and click the Discount Code icon.
Step 2 Create or edit an existing Discount Code Group.
Step 3 On 'Step 5. Discount Usage Limits', under Customer Groups select Specific groups of customers.
Step 4 Select groups from the Customer Groups drop down below.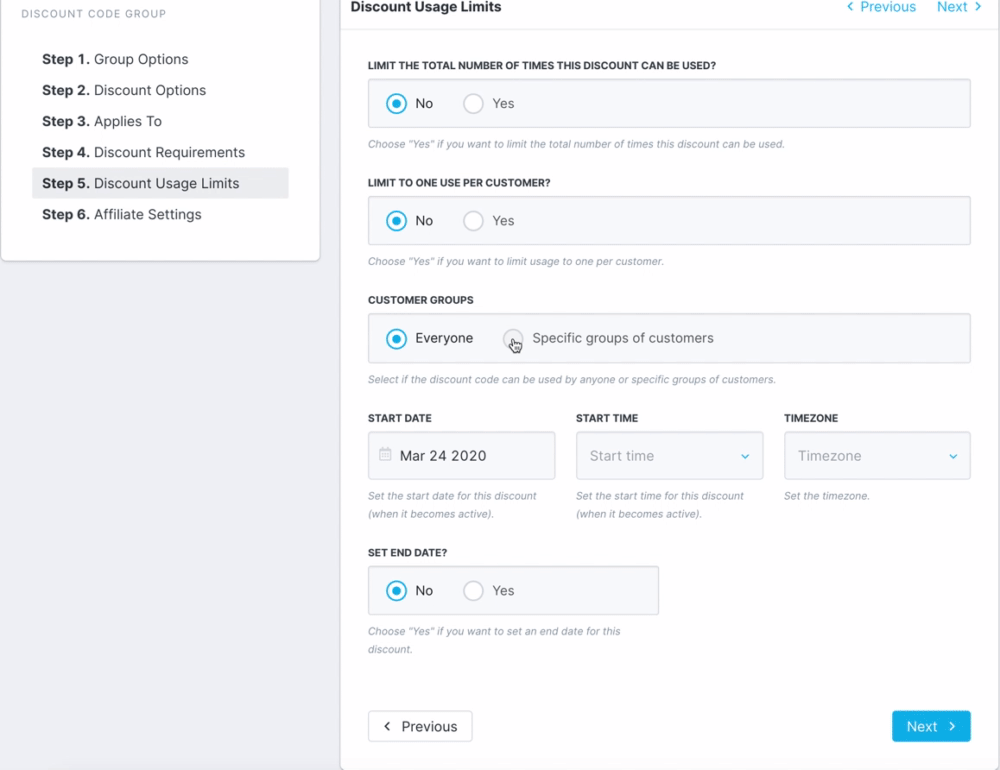 Pause Influencer Conversions and Content in Campaigns
We're excited to announce a feature that will allow you to pause influencer conversions and content from being attributed to a specific campaign. The purpose of this feature is to allow you to move influencers between Campaigns, or from a Campaign to a Partnership, while only having them be active in chosen campaigns and partnerships.
For example, if you have an influencer who has completed their deliverables for one campaign, and you'd like them to participate in another Campaign or Partnership, you can pause their contributions in the previous campaign, so that their content and conversions are not attributed to the campaign that they are paused in.
The benefit of this feature allows you to keep the same hashtags/mentions and discount codes for an influencer across campaigns, as long as they are paused in all but one campaign or partnership. This will prevent reporting, content, and conversions from being pulled into the wrong campaign.
To pause an influencer in a campaign:
Step 1 Navigate to Campaigns and click the Campaign Workroom icon.
Step 2 In any of the Workroom tabs (except Reporting), select one or more influencers.
Step 3 Once you've made your selections, click on the Action menu and then select Pause Content & Reporting.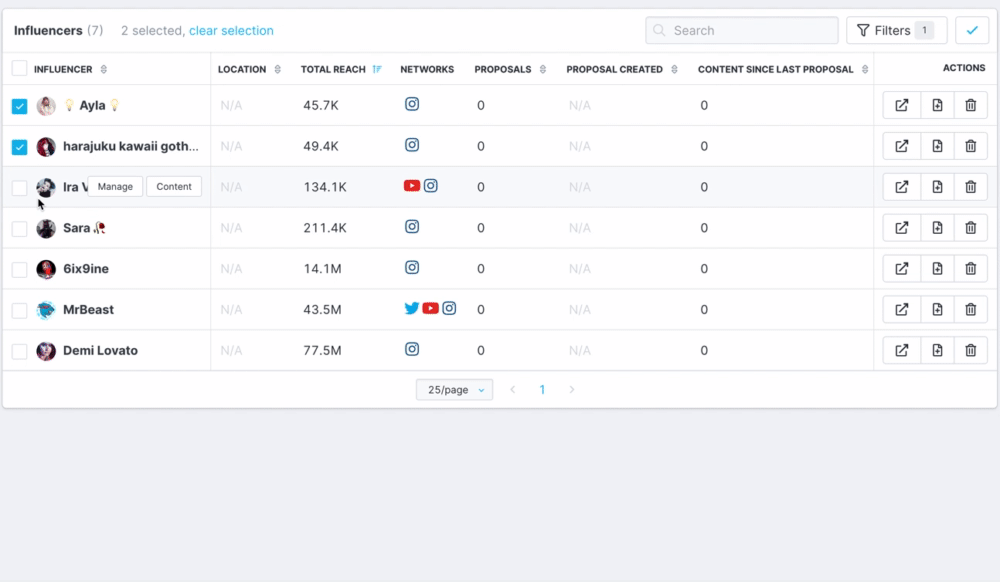 Note
When an influencer is Paused, they will have a Paused label next to their name in the Campaign Workroom.